FUJIFILM GF 80mm f/1.7 R WR Overview
Distinguished by its impressive speed, the FUJIFILM GF 80mm f/1.7 R WR is a short portrait-length prime built for the GFX mirrorless medium format system. This 63mm-equivalent lens pairs a slightly narrow focal length with an extremely bright maximum aperture for flexible depth of field control and impressive low-light performance.
With a 63mm equivalent focal length, this lens is wider than typical portrait-length lenses. This enables capturing more context and a broader field of view while still having the selectiveness of a lens that's longer than normal. This focal length also pairs with an impressively bright f/1.7 maximum aperture that gives a huge range of depth of field control and excels in low-light conditions.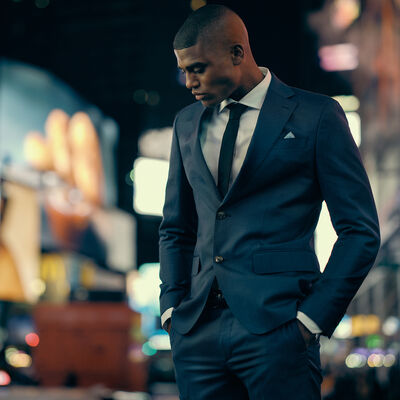 Sweet-spot focal length offers increased versatility for a variety of portrait scenarios, including group shots or tighter mid-length perspectives.
Nine rounded diaphragm blades contribute to an especially smooth bokeh quality that renders a pleasing subject-background separation to place more attention on the desired subject.
Two Super ED elements reduce fringing and chromatic aberrations in order to deliver high color fidelity and clarity.
An aspherical element also delivers a high degree of sharpness and reduces distortion for natural, realistic rendering at various focusing distances.
Reliable Autofocus and Design
Autofocus accuracy is critical when working with a bright design and shallow depth of field; the GF 80mm f/1.7 R WR features a powerful DC motor and high-precision GMR sensor to deliver focusing performance that's both quick and accurate to help catch fleeting and decisive moments.
Minimum focusing distance of 2.3′ and a maximum magnification of 0.15x offer enough focusing versatility to photograph group and full-length portraits as well as closer mid-length shots that focus on subject's torsos and heads.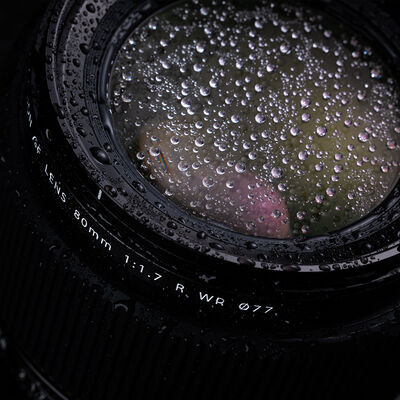 Despite the large maximum aperture, the lens remains relatively compact and lightweight, measuring just 3.9″ long and weighing 1.75 lb, enabling easy handheld use for more freedom while shooting.
Dust- and weather-sealed physical construction enables working in harsh climates and temperatures as low as 14°F.
Front element features a fluorine coating for easy cleaning and to repel dust, dirt, and moisture.
Physical aperture ring allows for intuitive adjustment over exposure settings and incorporates a C (Command) position to permit camera-based aperture setting.
In the Box
FUJIFILM GF 80mm f/1.7 R WR Lens (FUJIFILM G)
Lens Hood
Lens Pouch
Limited 1-Year Manufacturer Warranty