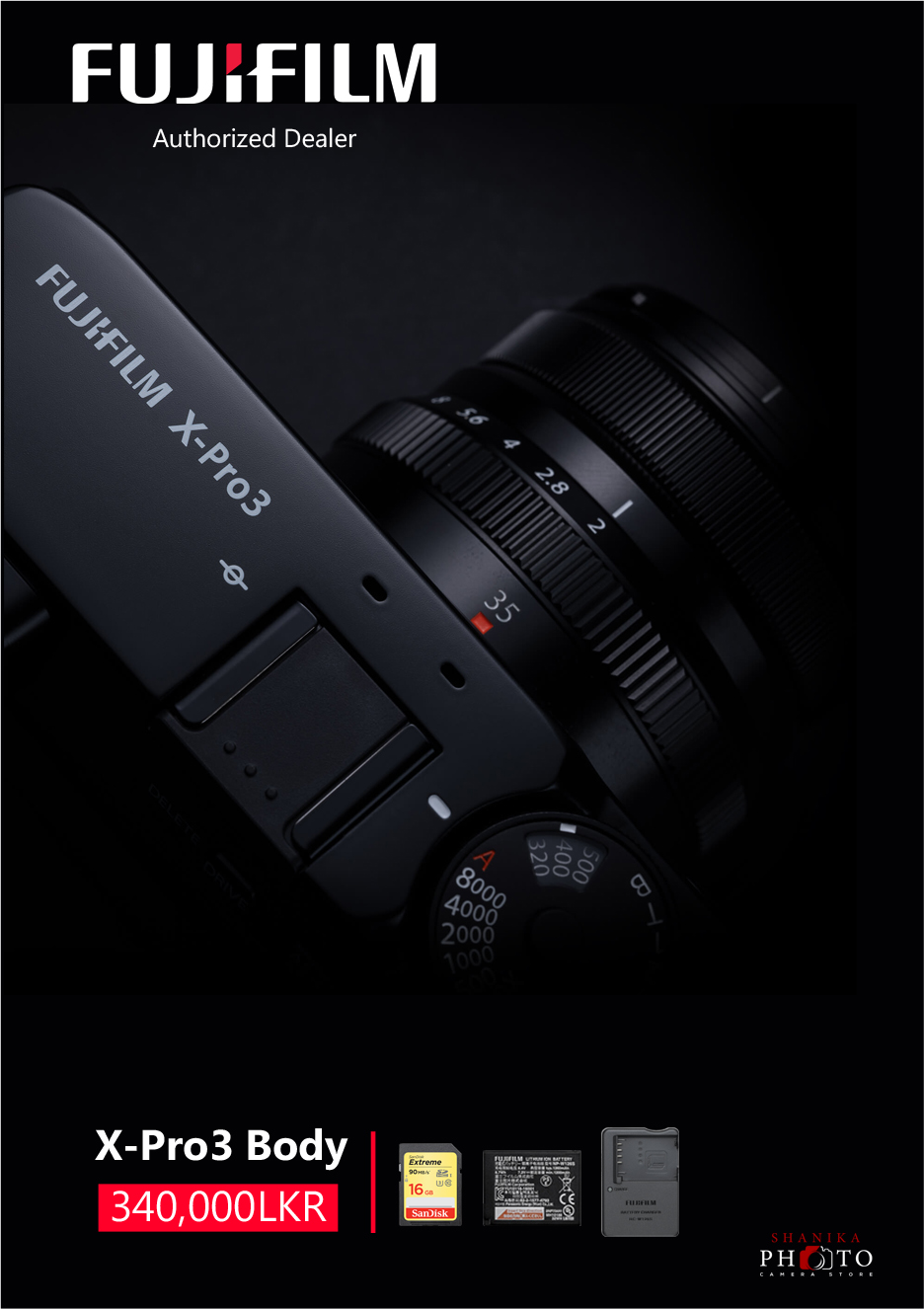 Fujifilm X-Pro3 overview
A digital camera designed with a film ethos, the FUJIFILM X-Pro3 is a unique mirrorless camera characterized by its distinct viewfinder design, a hidden LCD screen, and its stylish, rangefinder-inspired design with a black finish. In terms of imaging, the X-Pro3 features the APS-C-format 26.1MP X-Trans CMOS 4 sensor along with the X-Processor 4, which enables high-resolution stills shooting and DCI/UHD 4K video recording. The sensor and processor also enable an ISO 160-12800 sensitivity range for working in a variety of lighting conditions.
Besides its imaging capabilities, the X-Pro3's strengths lie in its sophisticated design, which includes the Hybrid Multi Viewfinder that combines both an optical viewfinder and a 3.69m-dot OLED electronic viewfinder. These two viewing means can be instantly switched with the dedicated lever on the front of the camera and let you choose between the simplicity and speed of an OVF versus the accuracy and versatility of an EVF. The X-Pro3 also sees an updated rear LCD design, with a hidden 180° tilting touchscreen that has a 1.62m-dot resolution. The unique fold-down screen design keeps the larger 3.0″ screen hidden against the body when not in use and a secondary smaller settings display is available while shooting. This design enables a simpler, more streamlined and unencumbered shooting method that helps to keep you in the moment. Additionally, the X-Pro3 also sports built-in Wi-Fi and Bluetooth for wireless sharing and remote control and dual SD memory card slots are featured for file saving flexibility.
26.1MP APS-C X-Trans BSI CMOS 4 Sensor and X-Processor 4
Revolving around a highly versatile sensor, the X-Pro3 features an APS-C-format 26.1MP X-Trans CMOS 4 sensor, which has a back-illuminated design to afford smooth tonal rendering, improved low-light performance, and a low native ISO 160 setting. As an X-Trans sensor, it utilizes a randomized pixel array, too, which provides a high degree of image quality and sharpness due to the omission of an optical low-pass filter. Versus conventional pixel patterns, the X-Trans design more closely mimics the organic nature of film in order to produce nuanced colors and tonal transitions, while also reducing moiré and aliasing.
The sensor's design also includes an expanded phase-detection autofocus system, which has 425 selectable points that cover nearly the entire sensor area. This AF system delivers faster, more accurate focusing performance in a variety of lighting conditions. Complementing the imaging and focusing capabilities, an updated X-Processor 4 is also featured, and delivers faster, more responsive performance throughout the camera system.
Hybrid Multi Viewfinder
Both optical and electronic viewfinder types are incorporated into the unique Hybrid Multi Viewfinder, which lets you select from the simplicity and familiarity of an OVF as well as the versatility of an EVF. Changing between viewing types is quickly performed via the dedicated finder switching lever on the front of the camera body.
The optical viewfinder provides a clear, lifelike view of the scene for easier composition and subject tracking. Its enhanced design incorporates an Electronic Rangefinder function, which mimics the functionality of a mechanical rangefinder, and simultaneously overlays information from the electronic viewfinder on top of the optical viewfinder for comparative manual focus control.
In regard to the electronic viewfinder, this sports a high 3.69m-dot resolution along with a fast 100 fps playback speed to reduce lag for smoother panning and tracking movements. The EVF lets you preview exposure settings prior to shooting and has a customizable display, for configuring the amount and type of information shown in the viewfinder.
Body Design
Unique hidden LCD design tilts downward 180° to reveal a large 3.0″ 1.62m-dot touchscreen; when not in use, the screen is hidden against the camera body to avoid distractions. On the reverse of the large 3.0″ screen is a smaller settings display, which can highlight exposure settings or a graphic of the film simulation in use.
Dual SD card slots allow for a more flexible and reliable means of storing imagery.
The top plate incorporates a series of locking dials and levers for fast, intuitive control over exposure settings, including a shutter speed dial that offers direct shutter speed adjustment. An ISO dial is also incorporated into the shutter speed dial, for confirming the sensitivity setting without having to turn the camera on and the exposure compensation dial lets you choose +/- 3 EV in 1/3 steps.
Front and rear command dials integrate a push function for easier use and settings selection.
A dedicated Focus Lever provides faster, more intuitive control over selecting specific focus points while shooting.
Integrated Bluetooth 4.2 low energy allows you to wirelessly share images to a mobile device or use the device to remotely control the camera.
UHD and DCI 4K Video Recording
More than a stills camera, the X-Pro3 offers an enticing array of video capabilities, including internal DCI/UHD 4K recording at up to 30 fps. Greatly benefitting overall video performance, the speed of the X-Processor 4 enables fast read speeds when recording 4K video and helps to reduce rolling shutter distortion when filming moving subjects. Also, the camera features a 2.5mm port and a 3.5mm external microphone adapter is included for more advanced audio solutions.
Film Simulation and Grain Effect Modes
Taking advantage of FUJIFILM's vast history in traditional film-based photography, the X-Pro3 integrates several Film Simulation modes. These modes mimic the look and feel of some of FUJIFILM's classic film types, including Eterna, which copies the look of cinematic film with understated colors and richer shadow tones; Acros, which offers smooth tones, deep blacks, and fine detail; and Classic Chrome, which is designed to deliver muted tones and a deep color reproduction, similar to that of a dated slide film. Several other effects are also available for both monochrome and color shooting. In addition to simulating specific film types, a Grain Effect mode is also available to replicate the look of old film photos with an organic textured appearance, which is especially noticeable when printing.
Link to official video – https://www.youtube.com/watch?v=eE6xWnLfJho&t=5s